Dr. Sibley, Amie Kahovec, Hanna Stoffel, and myself had an amazing time at the Society for the Study of Emerging Adulthood (SSEA) 2017 Conference in Washington D.C. at the Hyatt Regency Washington on Capitol Hill. This was such an amazing opportunity that was given to us by Dr. Sibley to present some of the research we have been working on together. First, we presented Proceed with Caution: How Emerging Adults are Testing the Water in Just Talking Romantic Relationships, followed by "The Game's Rigged": Exploring Gender Differences During Emerging Adulthood in Just Talking Romantic Relationships. We had prepared for months for this presentation, and were very excited to share our findings. And we were lucky enough to present our two papers back to back, which alleviated a little bit of the anxiety and nerves for us first-timers! At first, it did feel a little nerve-wrecking because we had so many amazing researchers and professors in our session that came to see what we had to contribute, however, after seeing how much support and encouragement was coming from everybody we became confident almost immediately. Although some of us felt a little anxious about presenting at our first national conference, we were able to put our nerves aside and give a wonderful presentation. We were all very proud of our paper presentation and thankful for all the kind support from everyone at the conference.
In addition to our great experience presenting at SSEA, we were also privileged to meet some very important people. Some of them included Drs. Scott Stanley, Leah LeFebvre, Spencer Olmstead, and Brian Willoughby. These are all individuals that we frequently read on our research team, so it really did feel like we were in the presence of celebrities. This was one of our favorite parts of the conference, getting to engage with such well-known researchers and finally get to meet the people behind so many of our readings. It was a great experience to get to meet and discuss research, future ideas, and our future in the field and our education with each of them. Some of our favorite paper presentations were by Leah LeFebvre and Brian Willoughby. Leah LeFebvre presented Is There an App for That?: Stigmatization and Normalization of Dating when Utilizing Emerging Communication Technologies, and Brian Willoughby presented Destined for the One and Only: Predictors of Soulmate Belief in Emerging Adulthood. These were both great presentations to watch because they are subjects our research team discusses regularly.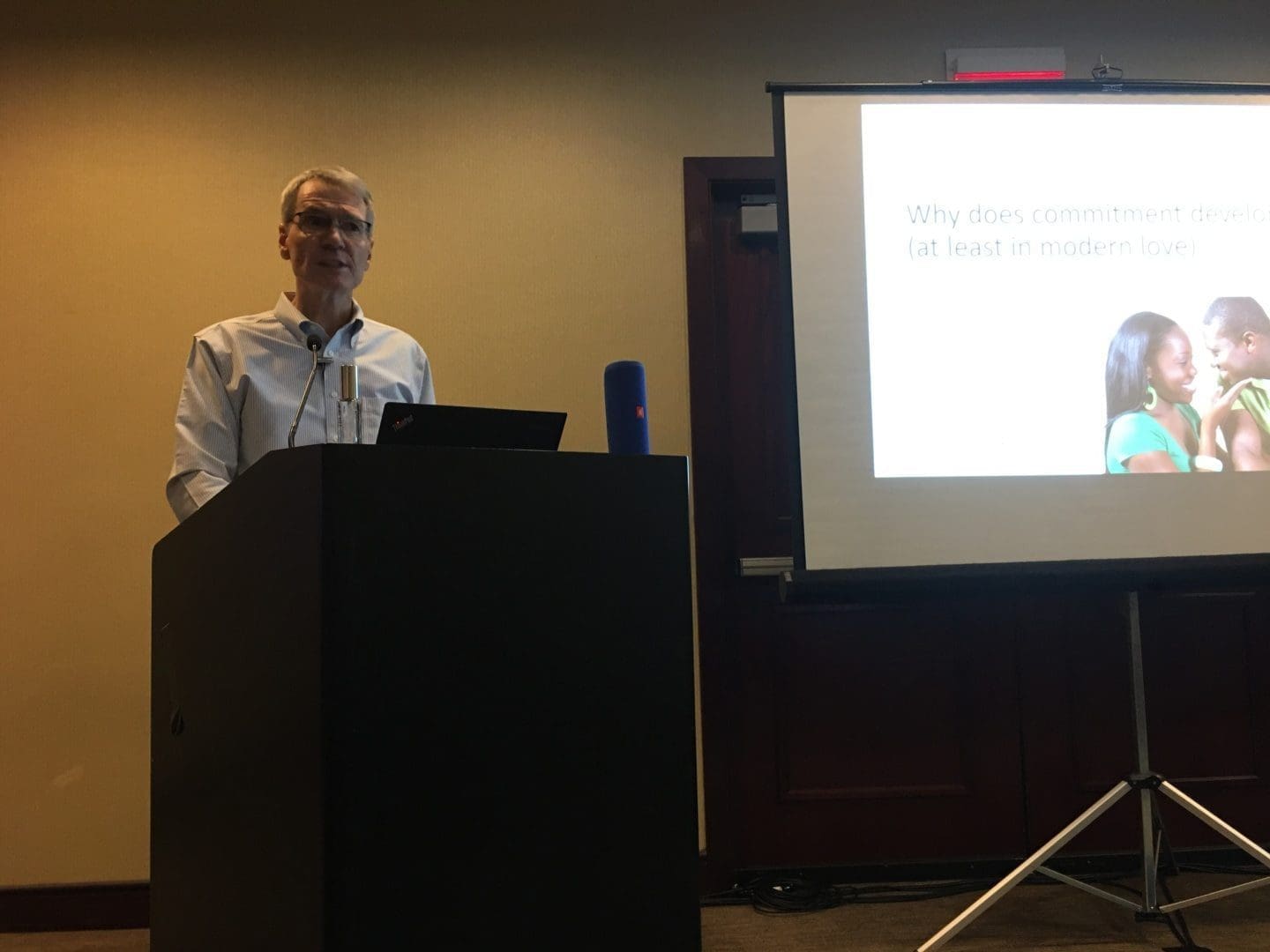 Another highlight of our trip was attending Scott Stanley's master lecture (Sliding vs. Deciding: Commitment, Ambiguity, and Relationship Formation). We were thoroughly edified by Scott Stanley's enthusiastic and engaging presentation. We really got a kick out of the opening of the lecture when Scott Stanley sprayed his oxytocin spray in order to make everyone in the room begin to feel more connected to him. This was the first time us three students had the opportunity to sit in on a lecture given by Dr. Stanley, so it was a big deal for us. We were very excited to get a shout out in Scott Stanley's presentation and were honored to be referred to as "Scott Sibley and the crew". Scott Stanley did a great job explaining some of the risk associated with cohabitation, as well as asymmetrical commitment, and how common types of relationship transitions can have long-term effects on couples.
In addition to all the exciting things we experienced at the conference, we were also able to do some great site seeing around Washington D.C. Some of the highlights included the United States Holocaust Memorial Museum, National Air and Space Museum, National Museum of Natural History, as well as seeing the United States Capitol building. Since many of us had not been to Capitol Hill in years, it was a wonderful chance to take time to venture around to see all of the historical monuments and museums again. We had a lot of fun exploring the National Mall and Smithsonian!
Overall, we all had a spectacular time at this conference and gained so much insight on topics ranging from tinder to commitment to soulmates and everything in between! It was an incredible opportunity to be able to present at SSEA 2017 in Washington, D.C. and have the chance to get to know some of the top researchers that we reference weekly. To be able to see what a national conference is all about and to show-off the research that we have been working so diligently on was such an achievement for all of us. We are so thankful for this opportunity and the support that was shown for us from some of our favorite researchers!
To learn more about our trip to SSEA 2017 in Washington, D. C. you can view our Conference Photo Gallery.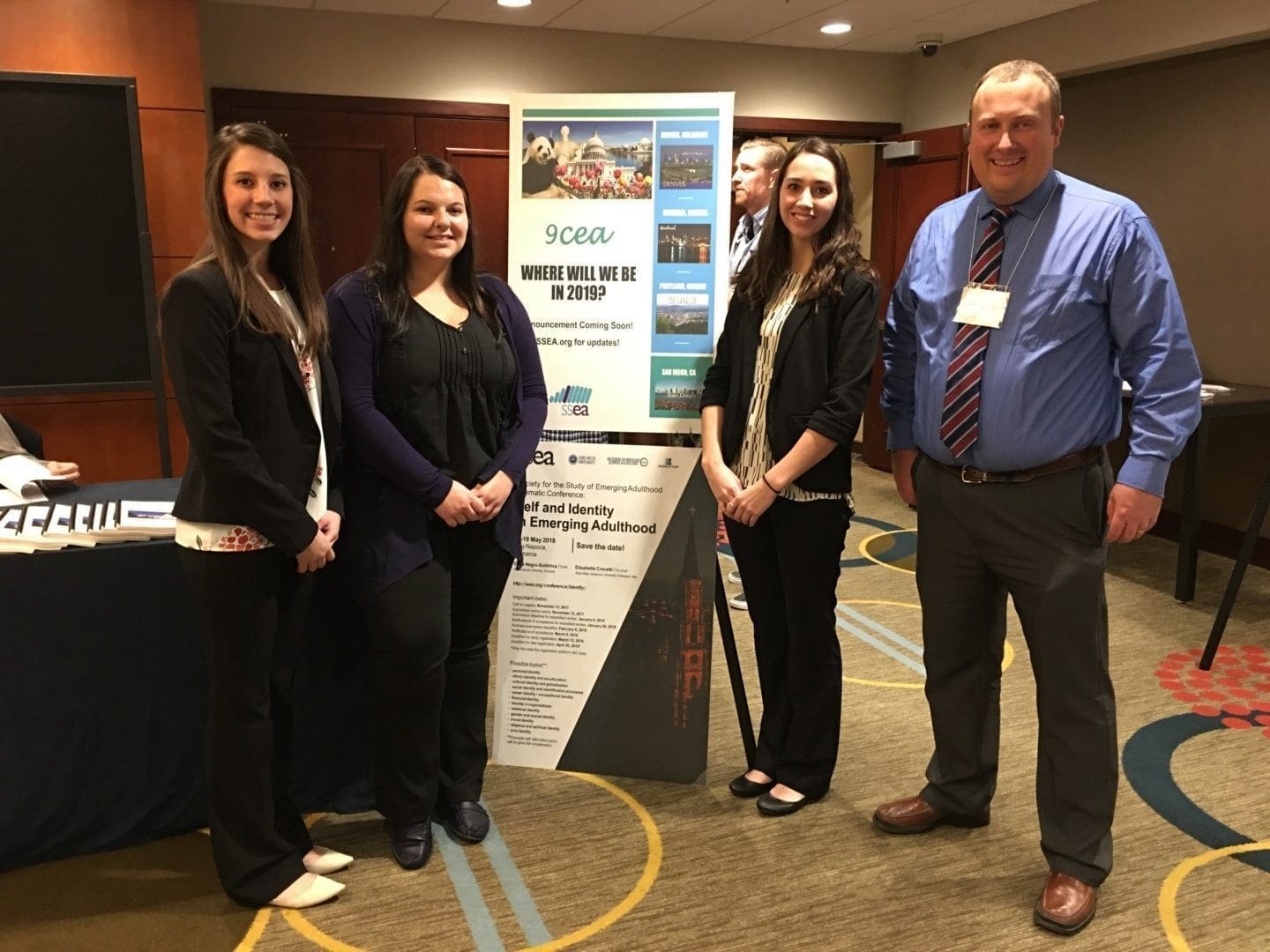 Hi! My name is Hillary Schraufnagel. I am a first year graduate student in the Marriage and Family Therapy Program at Northern Illinois University. I love to spend time with family and friends and hope to use my degree to pursue a career in the helping profession. I am very interested in research and am looking forward to having an opportunity to write more on the blog in the future!